Published on July 12, 2023
Streamline your invoicing process & start collecting progress payments.
PaintScout is pleased to announce the introduction of payment requests – allowing you to request progress payments from your clients while you work. This simply means you can now get paid in installments as the job progresses.
We're super excited to launch payment requests as a new feature. It was highly… requested! (Pun totally intended.)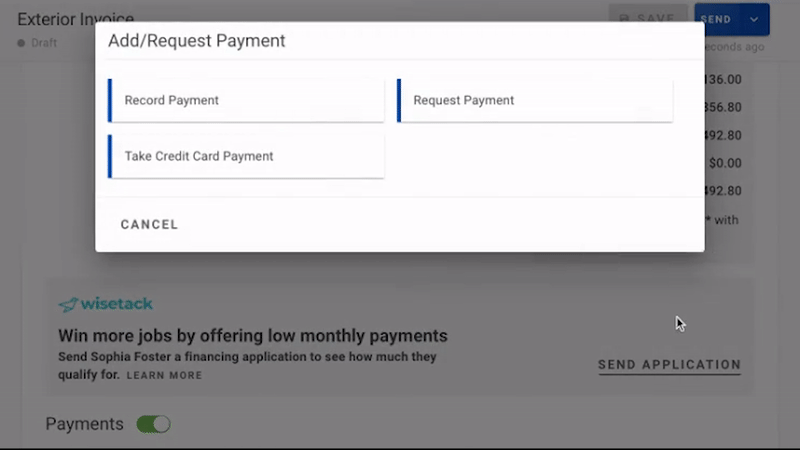 What are payment requests?
Payment requests are a nifty new feature in PaintScout, allowing you to request that your client make payments in installments over the course of a project.
Each payment your client makes can be applied across one invoice, ensuring you are consistently paid for your work and your invoicing becomes even more of a seamless experience for your customer.
Why payment requests are great for your business
The new payment requests are designed to help your painting business:
Improve cash flow — as money comes in consistently, you can ensure a steady stream of income throughout your project timeline.
Keep debt low — as you receive a constant influx of funds, you won't need to operate at a loss spending money on materials and labor.
Identify payment issues quickly — progress payments can help you fix discrepancies and address incorrect or missed payments swiftly.
Stop work if necessary — progress payments means you reduce the risk of doing an entire job and the client not paying you.
And, of course, you'll no longer have to rely on just an initial deposit when starting a job, or wait until the end of a project to make a profit.
Why your clients will love payment requests
Giving the option to your clients to make progress payments will mean they'll have the benefit of:
Flexibility — Instead of making a lump sum payment upfront, clients can spread their payments over multiple milestones. (See also: consumer financing options.)
Accountability — They can see the work being done and pay you accordingly, ensuring that they are getting value for their money.
A seamless experience — since you can request multiple payments on a single invoice, your customers will find it easier to pay you all in one, and on the same interface.
Peace of mind — If any problems arise during a project, clients address them before making further payments. This provides peace of mind and protects their investment.
How does it work?
The process is super simple.
Simply log in to your PaintScout account, go to your invoice, and follow the prompts to request your payment.
Once you've sent the request, your client will receive an email containing a direct link to their invoice.
They can then pay promptly using credit card through Stripe. Or remove the credit card option from the payment request and manually add a check, cash, or other payment to the invoice.
You can read our step-by-step guide on how payment requests work here.
---
Ready to get started?
Book a demo with one of our experts to see PaintScout in action!
Already a PaintScout user? → Start here
Contact us if you have any questions.
---