Take credit card payments easily with our NEW Stripe integration.
Today, we're introducing a nifty new payment feature allowing your clients to pay directly with credit card on estimates or invoices. With PaintScout Payments, you can accept on-the-spot deposits, issue payment requests to clients, and send automatic follow-ups so that you close more deals quickly and get paid on time.
In this article we'll outline everything you need to know about this new feature in detail.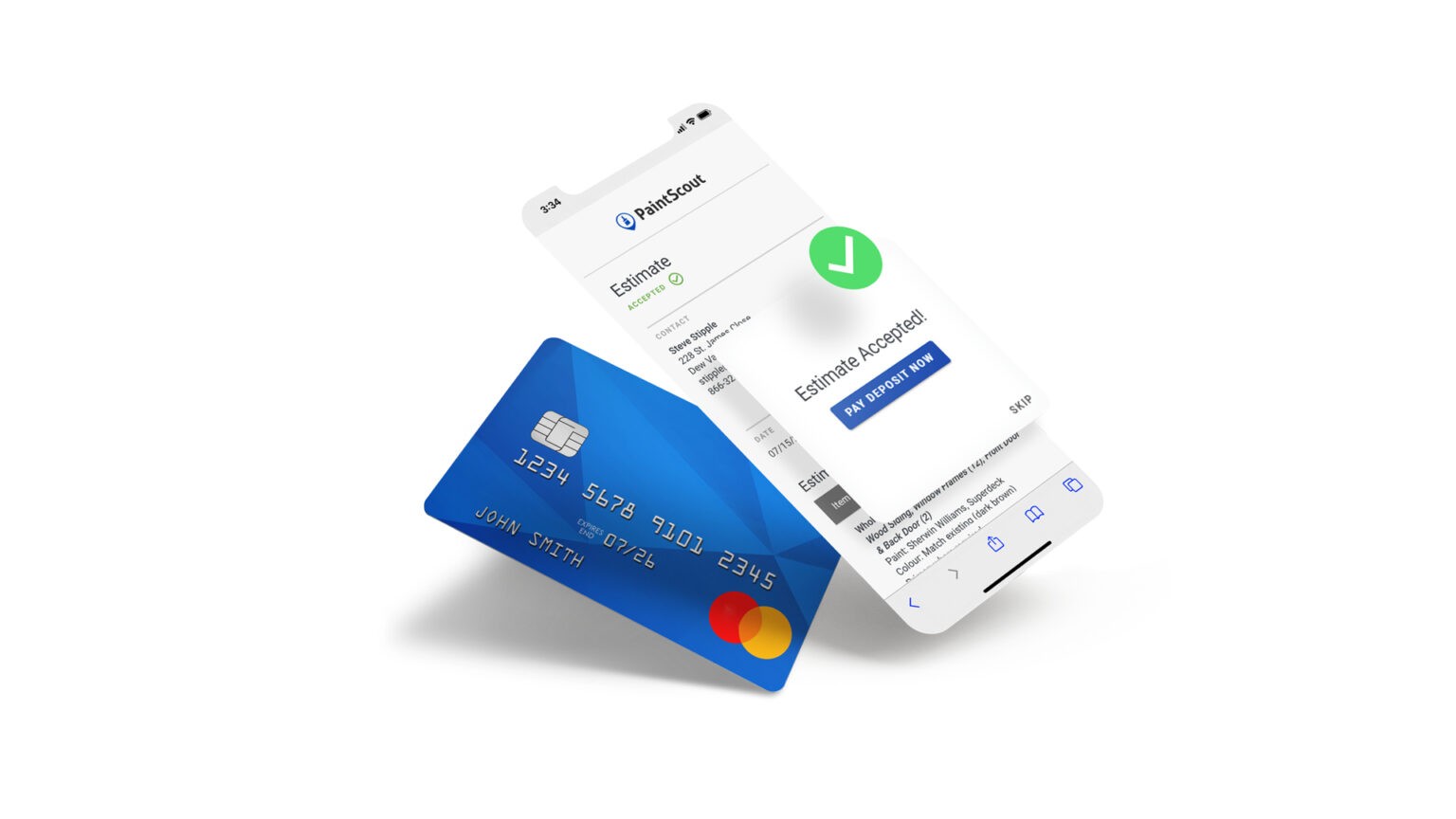 PaintScout Payments – What's new?
On the PaintScout platform, you can now:
Get upfront deposit payments on the spot — meaning you can attend a potential client site, deliver a quote, and get paid an upfront deposit all at once.
Send payment requests to clients — so that you can request:

a specific deposit amount in the beginning, and
a final balance when the work is complete.

Issue automatic follow-ups to clients — so that you can structure automated follow-up emails and notifications pursuant to a schedule (as opposed to manually chasing clients when they forget to pay their invoices).
Why you'll love PaintScout Payments
We've introduced these features onto the platform so that:
You're more likely to be paid on time, every time.
By enabling upfront deposit payments on the spot, you can minimize the risk of late and delayed payments—all while improving your cash flow.
Your payment system is faster and more reliable.
Stripe's payment processing is fast and efficient, meaning payments can be processed quickly and easily; reducing the amount of time it takes to receive payments.
Your customers get a better experience.
These changes will give your clients a more streamlined and hassle-free payment process, as they'll be able to pay you using the exact same app from which they accepted your estimate.
And of course, improved customer satisfaction helps you build a base of repeat loyal clients.
Everything is kept in one place.
The Stripe integration allows you to send estimates, receive payments, invoice projects, and send follow-ups all in one place. Making everything easier to track.
The platform integrates with Quickbooks, so you can send all information generated in your PaintScout account to your bookkeeping software. You can read more about integrating PaintScout with Quickbooks here.
Frequently Asked Questions
How do customers make a payment?
Your clients can now easily make a payment directly on their PaintScout estimate or invoice. Learn how it's done in our step-by-step guide here.
How can I integrate my PaintScout account with Stripe?
Once you've created your free Stripe account, follow our how-to article to integrate your PaintScout account with Stripe in just 2 easy steps. Note that each transaction processed by Stripe will be charged your Stripe fee plus a 0.5% fee paid to PaintScout.
Can I generate payment reports?
Yes! PaintScout offers a powerful tool to help you easily track and report on all of the payments received. Read our guide on Payment Reports to learn everything you need to know about generating reports in PaintScout.
Can I request ongoing installment payments from a client?
Not yet. However, we are working on a feature that will allow you to do this in the future. So, stay tuned!
Any further questions?
You can read more frequently asked questions about payments on PaintScout right here.